Mid-Level Giving Program Manager
Mid-Level Giving Program Manager
Annapolis, MD
The Chesapeake Bay Foundation seeks a Mid-Level Giving Program Manager in the Development Department to be based at the Philip Merrill Environmental Center in Annapolis, MD.
Established in 1967, the Chesapeake Bay Foundation (CBF) is the largest regional nonprofit conservation organization dedicated to saving the Chesapeake Bay, its rivers and streams, and the wildlife that call it home through education, advocacy, litigation, and restoration. Since 2010, CBF has engaged in a focused effort to defend and implement the Chesapeake Clean Water Blueprint, a binding federal and state collaborative agreement aimed at reducing pollution to the science-based, legally-affirmed levels established by the U.S. Environmental Protection Agency (EPA). The Blueprint is expected to be fully implemented by 2025. If the states and the federal government achieve Blueprint goals, the Bay will finally—after decades of failed efforts—be removed from the Clean Water Act's impaired waters list. Successfully implementing the Blueprint depends on a well-informed, engaged, active, and diverse constituency of members, advocates, and volunteers who speak up and take action to save the Bay.
CBF has a staff of approximately 210 employees working in offices in Annapolis, Maryland; Richmond and Virginia Beach, Virginia; Harrisburg, Pennsylvania; and Washington, D.C. as well as 15 field education program locations. Our staff and volunteer corps work throughout the region educating students and adults, advocating for clean water policies, restoring waterways, and litigating when necessary.
CBF's headquarters office in Annapolis, Maryland is the Philip Merrill Environmental Center, the world's first U.S. Green Build Council's LEED platinum building. In 2014, CBF opened the Brock Environmental Center—one of the world's most energy efficient, environmentally smart buildings—in Virginia Beach, Virginia.
CBF has an annual budget of approximately $30 million and is supported by over 300,000 members and e-subscribers. For more information on CBF, please visit cbf.org.
About the Hiring Department
Development
The mission of Development is to provide financial resources for CBF to meet its long-term vision of saving the Bay. It establishes and implements strategies to motivate donors to contribute to the organization's programs and projects through two primary areas of activity: development and membership
Context of the Position
The Mid-Level Giving Program Manager develops strategies and donor relationships to secure, retain, and steward mid-level annual support ($1K-$10K). This includes the management of both mass communications with all mid-level donors as well as individual cultivation and engagement to qualify top donors that may be ready to upgrade their support. The Manager understands the mid-level program's important role as part of the donor "pipeline" between membership and major gifts. Collaboration is expected with these teams, as well as with the Development Operations team, to maximize mid-level revenue and grow CBF's base of support. The Manager works interdepartmentally with key personnel to achieve successful mid-level fundraising results.
Essential Functions
Mass Communications & Solicitation (estimated 25% of Manager's time) - Develop solicitation strategies and deploy multi-channel campaigns to donors giving $1K-$10K annually to secure gifts and meet/exceed revenue goals. Continually streamline and improve the solicitation process to maximize revenue.

Craft messaging appropriate for mid-level renewals, appeals, and reinstatement efforts, given organizational priorities and focus. Confer with membership teammates and the Development Senior Writer to ensure continuity of messaging and adherence to established guidelines. Obtain all appropriate approvals.
Prepare mid-level solicitation lists.
Work with membership teammates to design and deploy mid-level e-renewals and add mid-level donors to appropriate e-appeals.
Make phone calls on a defined schedule to Chesapeake Leaders that have not renewed after their first three renewal notices.
Develop and deploy reinstatement efforts for lapsed mid-level donors.
Prepare proposals for any Chesapeake Leaders that require them as part of their annual solicitation

Pipeline Development & Portfolio Management (estimated 40% of Manager's time) - Work interdepartmentally to develop strategies and tactics to strengthen CBF's donor pipeline, specifically identifying individual donors with potential to increase their engagement and financial support. The program manager will partner with Membership, Major Gifts, and the Development Operations teams to:

Identify mid-level donors with major or planned giving capacity and greatest likelihood to increase their financial support.
Track and manage this group of top prospects in a mid-level giving portfolio.
Ensure qualification, engagement, and cultivation of the portfolio towards upgraded giving opportunities, including Major and Planned Gift Officers when appropriate.
Utilize a combination of in-person and remote/digital tools to engage individual donors to meet defined engagement metrics.
Complete contact reports and database actions to record donor engagement and overall portfolio management.
Conduct a biannual review of mid-level donor records to ensure donors are housed in the most suitable program.

Stewardship and Chesapeake Leaders (estimated 25% of Manager's time) - Ensure mid-level donors are effectively thanked, recognized, and connected to CBF's mission to sustain and hopefully increase their giving.

Manage the Chesapeake Leaders stewardship program for donors of $1K+.
Work with the stewardship team to include meaningful stewardship touches for mid-level donors in their annual donor stewardship plan.

General Program Administration (estimated 10% of Manager's time)

Develop annual work plans, revenue budgets, and expense budgets for mid-level. Monitor closely, adjusting the program as necessary to reach targets.
Establish timelines and adhere to deadlines for solicitation efforts.
Coordinate with Development Operations on the creation of reports to track and evaluate program performance over time. Suggest new reports or dashboards to aid in management of Chesapeake Leaders Program.
Use CBF's database and paperless document storage system to track mid-level solicitations, cultivation activities, and stewardship touches.
Participate in periodic program assessments and audits to assist with long-range planning and goal setting.
Other duties as assigned.
Professional Experience and Qualifications
Knowledge of development/fundraising concepts and solicitation techniques. Prior front-line fundraising experience preferred. Ability to perform multiple tasks with effective time management and organizational skills. Attention to detail a must. Demonstrated ability to recognize opportunities and identify critical, high return activities and prioritize them to attain goals. Strong human relations skills utilizing diplomacy and tact. Strong written and verbal communication skills. Experience with CRM databases and data analysis. Ability to maintain high level of confidentiality. Ability to work independently and within a team environment.
Ability to communicate effectively with people from diverse backgrounds and experiences. Ability to receive and give supportive feedback to foster equity and inclusion in working relationships. Ability to recognize, nurture, and learn from strengths in co-workers. Having flexibility to accomplish job responsibilities in several work environments, whether it be from home, on the road, or in an office.
Salary Range: $60,000 - $65,000
How to Apply
Using the link below, please submit a cover letter and resume. This position will remain open until filled. PLEASE CLICK HERE
CBF offers a comprehensive benefits package to include: 20 vacation days, 10 sick days, health, vision, dental, life insurance, and a tax deferred retirement plan.
CBF requires that all staff be fully vaccinated against COVID-19. The successful candidate will need to submit verification of vaccination or have a valid religious or medical reason not to be vaccinated.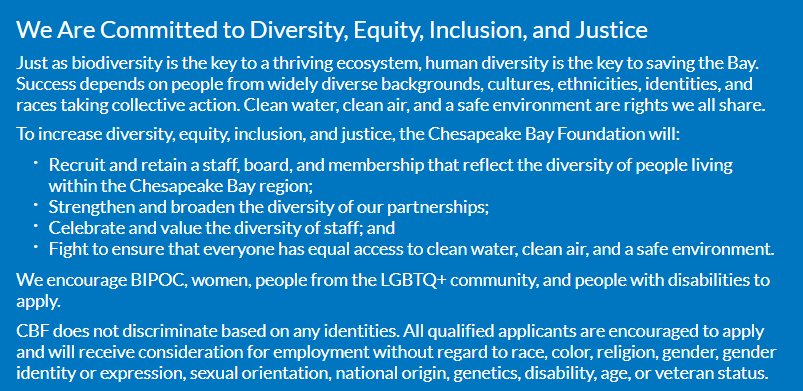 Additional Info
Job Type : Full-Time
Education Level : Bachelors Degree
Experience Level : Mid to Senior Level
Job Function : Development, Account Management, Marketing/Communications
Location : Mid-Level Giving Program Manager
Salary Range : $60,000 - $65,000